Stella Case No. 086, Originally Published: 12 January 2005
Police in New York say Antoinette Millard, 40, a former vice president at the Brown Brothers Harriman investment bank, posed as a Saudi Arabian princess and as a Victoria's Secret fashion model, and fraudulently stole hundreds of thousands of dollars' worth of merchandise.
Millard is not Saudi Arabian, nor has she ever been a Victoria's Secret model; she's from a "blue-collar family" in Buffalo.
One of those allegedly conned was American Express, which had issued her a coveted "Black" Amex card, which she used to run up huge bills. She was arrested and charged with grand larceny, and is free after posting $100,000 bail. She has also been charged with insurance fraud after allegedly filing a false $262,000 insurance claim for jewelry she claimed had been stolen, but prosecutors say she really sold.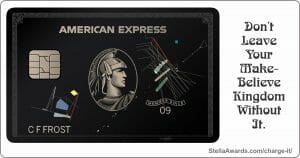 American Express sued Millard for payment of her $951,000 outstanding charge card balance.
But Millard insists she's not liable for the payments, since Amex "induced" her to sign up for the no-credit-limit card, and promised she could make "flexible payments" on her balance.
In a countersuit against Amex, she blames the company for its "false and fraudulent" promises since "in truth and in fact [American Express] did not allow [Millard] to make flexible payments." Further, the suit says, Millard "was suffering from anorexia, depression, panic attacks, head tumors and by reason of such illnesses was mentally incompetent and unable of executing or making any agreement as alleged" in the suit filed by Amex.
Amex, meanwhile, "knew or should have known that [Millard] was acting impulsively and irrationally at the time she entered into contract," and thus Amex should pay her $2 million.
"She's someone who got caught up in the money culture that dominates New York, and the need to fit in with that culture," says her lawyer, Peter Brill. When asked if Millard had a psychological problem, he replied, "I think everybody in New York has a long-standing psychological problem."
No doubt Brill is from New York. Draw your own conclusions.
Sources
"Fake Saudi Princess-Model Countersues American Express", Associated Press, 24 November 2004.
"Lessons in Human Buy-ology", San Francisco Chronicle, 19 December 2004.
Case Status
Unclear, but seemingly dismissed.
My 2021 Thoughts on the Case
Short version: when your hand is caught in someone else's cookie jar, suing them for catching you is contemptible. But… what if there really is a mental problem here? Well, facing 15 years in prison, Millard accepted a plea bargain that called for her to spend one year of confinement in inpatient psychiatric care, rather than jail, reported the New York Times in 2006, in return for pleading guilty to grand larceny and insurance fraud.
"If you fail to get this treatment, the court will not hesitate to sentence you to prison," said Justice Renee A. White of State Supreme Court in Manhattan. Millard reportedly stayed at the hospital for only three months. In response, it seems Judge White hesitated.
As investigations continued — and Millard was arrested in Florida at a shopping mall on a fugitive warrant — she was back in court and took a plea bargain that sent her to jail for a mere one year. What about those pending charges? "I'm not so sure they'll come forward with another indictment," said her lawyer, John Arlia (perhaps Brill was thrown to the curb?)
Millard, Arlia explained, was on a mission to the mall "to confront her shopping demons as part of her therapy." Mall security called the police because she was buying, and then returning, expensive jewelry.
You may not be surprised to learn she later filed another lawsuit: Millard sued the jeweler where she bought much of her loot with that unpaid Black card account. Why, when she went to pawn it, the pawn shop wouldn't give her the full value she paid! As if any pawn shop would. Still, she demanded $1.1 million in compensation, which makes her a rare Dual Stella Award Winner.
That case finally went to court in 2010. The judge wasn't impressed with her claims: he tore various pages out of her filed lawsuit and tossed them into a trash can, the New York Daily News reported. Millard then "settled" the case by dropping it after Michael Eigen Jewelers agreed not to sue her over the ordeal.
My guess is, that's approximately what happened with the dual lawsuits between her and AmEx.
Update Sources
"Would-Be Princess Headed to Hospital, Not Jail", New York Times, 14 September 2005.
"'Princess': Jeweler's Con King", New York Daily News, 23 March 2010.
"Fake Princess Antoinette Millard Drops $1.1 Million Lawsuit Against Michael Eigen New Directions", New York Daily News, 26 March 2010.
Note: This was a 2004 case even though it was not published online until just after the new year.
- - -
Email Subscriptions
No new cases are being published, so please don't try to submit cases.
My Flagship Email Publication This is True continues to come out with new stories every week. It's "Thought-Provoking Entertainment" like Stella, but uses weird-but-true news items as its vehicle for social commentary. It is the oldest entertainment newsletter online — weekly since 1994. Click here for a This is True subscribe form.