May it Please the Court: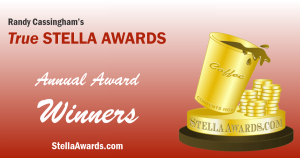 Unlike the fake cases that have been highly circulated online for years, the following cases have been researched from public sources and are confirmed true by the only legitimate source for the Stella Awards: StellaAwards.com.
---
The 2003 True Stella Awards Winners
by Randy Cassingham
Issued 21 January 2004
Submitted by:
StellaAwards.com, In Pro Per
Note: The capsule summaries above are just that — very brief summaries of significantly longer case writeups. See each writeup, which is linked from each plaintiff name.
See Winners from 2002 and 2004.
- - -
Email Subscriptions
No new cases are being published, so please don't try to submit cases.
My Flagship Email Publication This is True continues to come out with new stories every week. It's "Thought-Provoking Entertainment" like Stella, but uses weird-but-true news items as its vehicle for social commentary. It is the oldest entertainment newsletter online — weekly since 1994. Click here for a This is True subscribe form.