May it Please the Court:
While the Stella Awards are no longer given (because my book covered all I needed to say on the subject), readers have asked, of all the "winners" over the six years the awards were given, which one is the overall "Stella"-worthy winner? Well, let's see….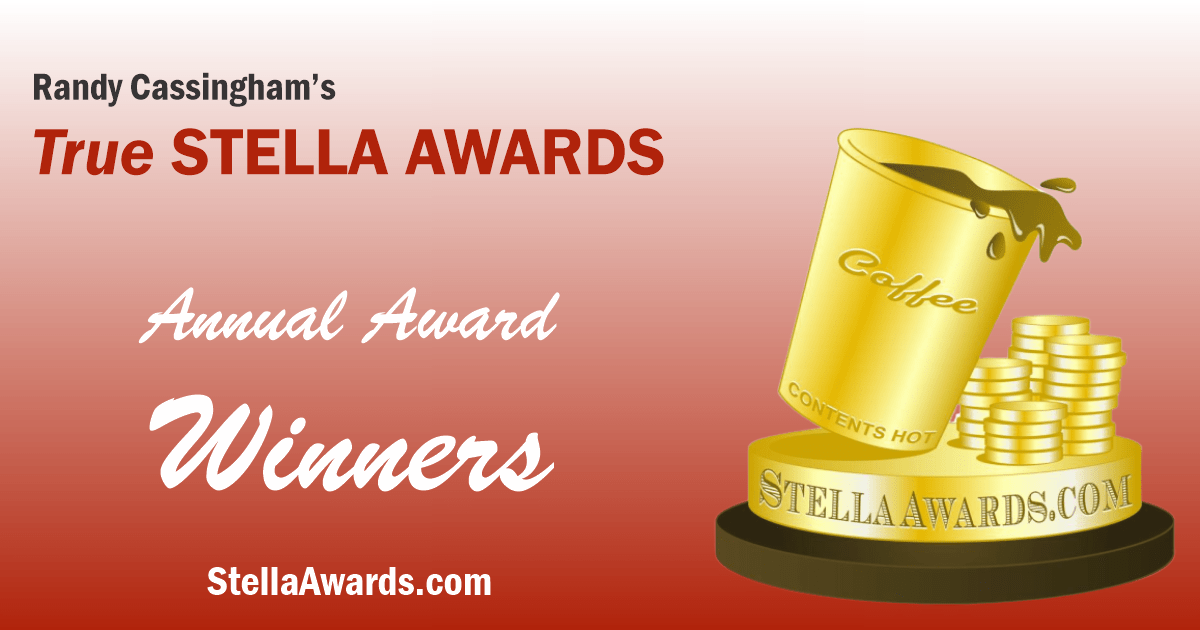 ---
The Overall True Stella Awards Winner
by Randy Cassingham
Updated 5 June 2019
The runners-up are presented in order: from the least-Stella-worthy (#6) to the most:
Why? And What Happened?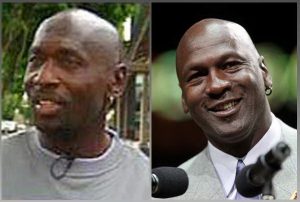 #1: Heckard "wins" because he's the epitome of what most people feel the Stella Awards are all about: someone who had no valid claim whatever who thought his lot in life (Awwww, he looked a bit like a well-respected sports star!) was worthy of huge (nearly a billion bucks!) damages. The case's end is already documented.
#2: The City of Madera is the runner up for its craven attempt to pin its poor police training on an equipment manufacturer …of a product that was not even used. The court threw the case out in Summary Judgment — and the city appealed! The U.S. Court of Appeals (Ninth Circuit) slapped the appeal down, too.
It came out in that suit that Ofc. Noriega had made a similar mistake prior to this incident — when she pulled her Taser when she meant to pull her Glock pistol! It took years for the lawsuit filed by the family of Everado Torres, 24, to wend its way through the courts: the incident happened October 27, 2002; Madera sued Taser in late 2003, and the Appeals Court finally tossed the case out in 2008. Madera eventually settled rather than go to trial — and paid the Torres family $775,000 in late 2013, almost 11 years after the incident.
#3: This case's end is already documented.
#4: The "pants judge" is next. He was chosen for his over-the-top reaction, which didn't abate even after being repeatedly slapped down.
Shortly after his case was tossed, a panel recommended that Judge Pearson not be given a full 10-year term as an administrative law judge after his initial two-year term expired in mid-2007, in part because his lawsuit demonstrated a lack of "judicial temperament." So much for his $100,512 salary. And sure enough, Pearson then sued the city of Washington D.C. for wrongful dismissal, asking for $1 million. That suit was also tossed — after more than a year of back and forth, and he appealed that decision, too!
Even with him essentially being fired, Pearson kept going: when his appeal was dismissed, he asked that the case be heard en banc — that is, that the full 9-judge Appeals Court bench hear the case, rather that "just" three judges, which is how cases are normally heard. That motion was denied. He then had 90 days to file a petition for certiorari (a court process to seek judicial review of a decision of a lower court), but he did not file it within that deadline, so the case ended.
What of the dry cleaner? It closed: Soo Chung, Jin Nam Chung, and Ki Y. Chung, the owners of Custom Cleaners in Washington D.C., announced in September 2007 that due to loss of revenue and emotional strain from the lawsuit, they closed the store, and concentrated their efforts on a second store they owned.
The incident and lawsuit served as a basis for "Bottomless," an 18th-season episode of Law & Order, which aired originally on January 16, 2008.
#5: Christopher Roller tried to back up his lawsuit by attempting to patent his "powers": the "exclusive right to the ethical use and financial gain in the use of godly powers on planet Earth." The patent was denied, and the case was dismissed "with prejudice" — meaning he cannot amend and re-file the complaint.
#6: I did not find the formal conclusion of this case, but did find that Mary Ubaudi died in February 2016 at 57, meaning that she was around 45 when she claimed she needed instructions in how to fasten a seat belt. Still, she comes in 6th in the Overall awards since she "only" asked for $150,000….
Submitted by:
StellaAwards.com, In Pro Per
- - -
Email Subscriptions
No new cases are being published, so please don't try to submit cases for inclusion on this site.
While there are no new cases coming, all of the previously published cases are returning to this site over time. You can subscribe to notifications as those classic cases are posted, usually every Wednesday. Click here for a Stella Awards subscribe form.
Meanwhile, my flagship email publication This is True does continue to come out with new stories every week. It's "Thought-Provoking Entertainment" like Stella, but uses weird-but-true news items as its vehicle for social commentary. It is the oldest entertainment newsletter online — weekly since 1994. Click here for a This is True subscribe form.