Stella Case No. 085, Originally Published: 12 January 2005
Jerry Colaitis is dead. The Long Island, N.Y., fur dealer died in November 2001 at age 47 from complications after surgery, but his family has a fairly interesting theory on what actually caused his death.
In January 2001, Colaitis and his family went to one of the Benihana Japanese restaurant chain's outlets for dinner. Benihana is known for its table-side chefs who entertain diners with acrobatic knife tricks. "The chef who was assigned to their table starts tossing food," says attorney Andre Ferenzo. After flipping a couple of shrimp, the family "feared for their safety" and asked him to stop. But the chef flipped a third shrimp toward Colaitis, who ducked, the family says.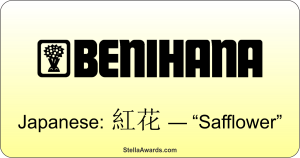 That sudden ducking motion caused Colaitis, who "was in the prime of his life" and in "fine physical condition," to hurt his neck, the family contends. Doctors said he needed surgery; after two operations, Colaitis died from an infection.
"It is literally undisputed that he required surgery as a result of the incident," Ferenzo says. "They set in motion a sequence of events." Thus, he filed suit against Benihana in Nassau County Supreme Court charging wrongful death. The suit begs for $10 million in damages, which also covers pain and suffering, and loss of consortium for widow Jacqueline Colaitis. A local newspaper has dubbed it "The Flying Shrimp of Death Suit."
Yes, well, that's not what the defendants say. They contend that Colaitis hurt himself when he tried to catch the shrimp in his mouth. Defense attorney Andrew B. Kaufman moved for summary judgment, arguing that "as the plaintiff's decedent died of an unidentifiable medical condition, the plaintiff will be unable to establish that any alleged negligence by Benihana proximately caused his demise." In November 2004 the court struck down the motion, ruling that the case must be decided by a jury.
Sources
"The Flying Shrimp of Death Suit", New York Daily News, 24 November 2004.
"Benihana Chef's Playful Food Toss Blamed for Diner's Death", New York Law Journal, 23 November 2004.
Case Status
By the time it got to court, the demand had grown to $16 million. After four weeks of arguments, the case went to a jury, which took just two hours to throw it out, deciding the family should receive nothing. The report noted the incident to death was 10 months. The incident to the case's conclusion took just over 4 years.
Mrs. Colaitis, her own attorney Andre L. Ferenzo said, told him, "I could understand them coming back with any amount on the award, but to find that Benihana's not responsible, I don't get that."
Maybe because the jury didn't think Benihana was responsible?
Source: "Benihana Wins Flying Sizzling Shrimp Case", New York Times, 10 February 2006.
My 2021 Thoughts on the Case
Again, I feel for the survivor for the loss of her spouse. That doesn't mean that someone should pay $16 million based on a theory that contradicts medical findings.
Note: This was a 2004 case even though it was not published online until just after the new year.
During this time I had finished up the True Stella Awards book, so from this case on, none are in the book.
Letters
Just like Case 83, there were no letters published regarding Case #84 (Click-It or Ticket), despite it being the 2004 winner. But again, there were other letters to run:
In Case #81 I ran a letter from "Ellen in New Jersey", who was ranting about the original Stella case. I mentioned that she demanded that I create an "award" for the "stupidest statement made in public"; I did just that, creating the tongue-in-cheek "Ellen Awards".
That led to scores of "nominations" of various spoutings of limited intelligence and/or literacy, and people asking where they could subscribe to the "Ellen Awards" list.
Sorry, but I thought readers would get the joke: Ellen won the award and …we're done. I'm not doing another publication. It'd get old anyway; who wants to spend the day — day after day — listening to stupid people try to argue a point …badly? Not me. If you do, get a job in customer support!
- - -
Email Subscriptions
No new cases are being published, so please don't try to submit cases.
My Flagship Email Publication This is True continues to come out with new stories every week. It's "Thought-Provoking Entertainment" like Stella, but uses weird-but-true news items as its vehicle for social commentary. It is the oldest entertainment newsletter online — weekly since 1994. Click here for a This is True subscribe form.