Stella Case No. 087, Originally Published: 12 January 2005
Louise Outing of Everett, Mass., is 94 years old, but she's still pretty sharp. She even likes playing the lottery. And on September 4, 2004, she won $5.6 million in the Megabucks lottery drawing.
Massachusetts Lottery rules state that winnings are payable over 20 years. "In March, I will be 95 years old. Do you realize that?" she mused to a reporter. "Ninety-five in March. Now, you know I'm not going to live 20 years."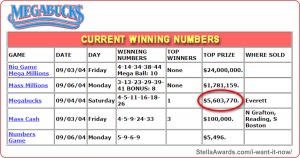 Sure enough, with the help of attorney James Dilday of Boston, Outing sued the Massachusetts State Lottery Commission, seeking a court order that it pay her the full amount of her winnings immediately.
"She is guaranteed a 20-year annuity with a net payment of $198,639" per year, says Joseph C. Sullivan, the executive director of the state lottery. In light of her age, he noted that any payments made after Outing's death would go to "her beneficiaries, which in this case, if needed, would be the estate."
"I would like the money so I can do what I want to do with it," Outing said. "I think I'm entitled to it. I won. So I don't understand why they don't give it to me. They took my money, so they should give me what I got. I've got plenty to do with it." She warned that if she lost her case, she would appeal. "I think it's awful the way they are treating me, just awful."
-v-
There's the case. How would you rule, as a juror in the Court of Public Opinion?
-v-
.
.
.
.
Perhaps as an accommodation to her age, the Massachusetts Superior Court heard Outing's case quite quickly.
Justice Barbara A. Dortch-Okara ruled that the state lottery's rules are clear: winnings are paid out over 20 years, and there is no cause for forcing the lottery to change things for Outing.
"I expected that," Outing said, apparently forgetting her feisty promise to appeal. "I'll make out some kind of way." Her lawyer was not as accommodating, however. "They just don't care. They're telling this woman to go take a hike."
No, they're telling Outing she's no different from anyone else. The rules are clear, and the 20-year rule was printed on the very ticket that Outing cashed in. No one knows when they'll die, even lottery winners. To make an exception for one lucky new millionaire opens the floodgates for rule-breaking by all.
Sources
"Lottery Winner, 94, Sues to Get it All Now", Boston Globe, 29 December 2004.
"Lottery Winner, 94, Loses in Court", Associated Press, 31 December 2004.
Case Status
Dismissed, as noted.
My 2021 Thoughts on the Case
Suing the lottery again?! Man a lot of money goes down the drain when "something for nothing" dreams are smashed. Which is, of course, the very theme of the True Stella Awards….
What struck me: after dismissal the plaintiff was not at all whiney …like her lawyer was.
The web site Lottery Post ran a story on Outing's win, with one charming detail: "The staggeringly good fortune came her way after years of playing the lottery every day except Sunday, which she considers too holy for numbers games." So… she'll spend 1 day of her afterlife each week in heaven, and 6 in hell?
I found one very unauthoritative reference that said Outing died in 2006.
Note: This was the last 2004 case, even though it was not published online until just after the new year.
- - -
Email Subscriptions
No new cases are being published, so please don't try to submit cases.
My Flagship Email Publication This is True continues to come out with new stories every week. It's "Thought-Provoking Entertainment" like Stella, but uses weird-but-true news items as its vehicle for social commentary. It is the oldest entertainment newsletter online — weekly since 1994. Click here for a This is True subscribe form.