Stella Case No. 023, Originally Published: 4 December 2002
On the Fourth of July, 2002, Tanya Whitaker rented a Chevy Blazer from Enterprise Rent-A-Car in Des Moines, Iowa. With her fiancé Tyson Wells, his brother and sister Teondra and Doug Wells, and friends O'Keitha Nelson and Shunntae Averette, Whitaker drove to a neighborhood known for its Independence Day "fireworks wars" — where people shoot fireworks at each other.
As Whitaker drove, Tyson and Doug shot bottle rockets out the vehicle's windows at people. At one point Tyson tried to shoot a rocket out the window, but instead it exploded inside the car and set off the cache of fireworks in the passenger compartment, including Roman candles.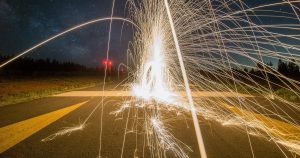 Doug suffered burns over 23 percent of his body; Teondra 60 percent. Averette, just 15 years old, died.
Who should be to blame for the tragedy? While Averette's estate accepted a settlement from Whitaker's auto insurance carrier, Teondra and Doug decided to sue Whitaker; they also sued Enterprise Rent-A-Car, under the theory that Iowa law holds a vehicle's owner liable for damages caused by the driver.
Not surprisingly, Enterprise argued that the law is meant to assign blame for injuries caused by the vehicle itself, not the actions of its driver or passengers. An Iowa jury agreed, assigning 20 percent of the blame for the accident to Whitaker and 80 percent to Tyson, who caused the accident in the first place. In a fit of common sense, they held Enterprise blameless for actions it had absolutely no ability to control.
Source
"Auto Renter Not Liable for Fireworks," The National Law Journal, 8 November 2002.
Case Status
The result was complex: a settlement and an award and a dismissal in that the car rental company was exonerated by the jury, the last part being why it was a Stella Awards case.
Letters
Case 022 about the junior baseball league player who sued because he didn't get enough playing time touched a nerve, and not just in reaction to the obvious lack of "sportsmanship" the case, and others like it, demonstrate.
Douglas in Oklahoma: "I've coached youth baseball for 8 years and football for 4 years. I've worked hard to make sure that every kid gets quality playing time, aiming for at least 50%. Sometimes I've been more successful than others. But in *every* case where I've had a parent complain about their son's playing time I've asked the same question, 'When was the last time you played catch with him, or practiced with him to help him become a better player?' The answer is usually never. I throw batting practice to *my* son nearly every day, even on days when we don't practice. By August my right elbow is swollen and painful from throwing batting practice all summer, not just to my son but every kid on the team. That said, youth sports these days is way too competitive. Kids and parents have to almost be obsessed with whatever sport they are playing in order for their kids to be successful. Kids don't *play* any more. I learned baseball as much playing on the street as I did in organized sports. But there aren't any streets left where you can play stickball or sandlots where you can knock one through Mrs. Johnson's window. Kids don't know what they're missing."
Either does Mrs. Johnson. 🙂
Tony in Illinois: "Maybe I was brought up differently. My parents, when I was in baseball, let me know that I wasn't very good, but then suggested that I try something else. Eventually, I joined soccer, was good at it, and loved it. My parents saw this, encouraged me to go as far as my talent would take me, but never coddled me. However, there was one kid I played with that had joined every sport, was good at none of them, but his parents kept pushing him to play. They always told him that nothing he did was his fault, it was something some other player did that caused him to fail. Nowadays, it seems too many parents want to cater to the whims of their children, and things have gotten out of control. Or the parents are pushing something on their kids (like that kid I played with). It's part of the reason I got out of being a youth soccer referee. I couldn't handle the parents of the six-year-olds thinking their kids were the next Peles and screaming at me when I blew the whistle to call a foul on their little Peles-in-the-making."
Guy in Connecticut: "I agree with you that the boy should have sought redress through the board, but I disagree about the 'real world' [comment at the end] — a bit harsh I think. If children should be expected to participate in the 'real world' in their fun, than the world will have to change a whole lot more to make it worthwhile to have 'fun'."
It was the boy who decided to jump into the "real world," rather than stay in the confines of the "fun world" — he decided to sue rather than do what the coach told him he could do: ask the board for a refund of his fee. What a shock he got that the "real world" of the court system isn't "fun."
My 2020 Thoughts on the Case
It is sadly often a winning tactic to sue a "deep pocket" even though they truly were innocent bystanders. So much so, it's refreshing to see a jury say "Nope!"
- - -
Email Subscriptions
No new cases are being published, so please don't try to submit cases for inclusion on this site.
While there are no new cases coming, all of the previously published cases are returning to this site over time. You can subscribe to notifications as those classic cases are posted, scheduled for Mondays and Thursdays. Click here for a Stella Awards subscribe form.
Meanwhile, my flagship email publication This is True does continue to come out with new stories every week. It's "Thought-Provoking Entertainment" like Stella, but uses weird-but-true news items as its vehicle for social commentary. It is the oldest entertainment newsletter online — weekly since 1994. Click here for a This is True subscribe form.