Stella Case No. 024, Originally Published: 11 December 2002
In 1997, Bob Craft, then 39, of Hot Springs, Montana, went to court to change his name. The Sanders County District Court approved it, and from then on Craft went by his memorable new, preferred name: Jack Ass.
Three years later, MTV's TV show Jackass went on the air, featuring the kind of crude jokes and dumb stunts that adolescent males of all ages seem to lap up with a spoon. Some morons have tried to copy the stunts, or film themselves doing other dumb tricks that they hope to impress the producers with. When they get hurt, they often sue.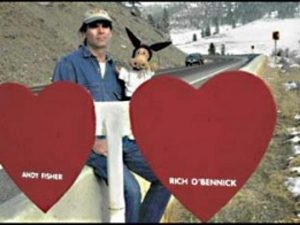 But Jack Ass isn't …um… that sort of jackass: he isn't interested in doing stupid stunts. When he wasn't working as a freelance telephone and electric power lineman, he represented his "Hearts Across America" organization to campaign for responsible drinking and the use of designated drivers using the slogan, "Be a smart ass, not a dumb ass."
After seven years, Ass says he has spent as much as $100,000 promoting his safe drinking message, against a total income of $1,500.
Apparently MTV's Jackass series and movie were getting in the way of that incredible cash flow. Ass thus filed a lawsuit which claims that the TV show promoting irresponsible behavior was somehow "plagiarized" from his efforts to promote responsible behavior, that the show infringes his trademarks and copyrights, and that this has demeaned, denigrated and damaged his public service efforts.
"For over two years I have searched for an attorney with some courage to go up against MTV for the infringement and plagiarizing they have done," he said, but he couldn't and gave up — and thus filed the suit on his own against Viacom, which owns both MTV and Paramount Pictures, which distributes Jackass the Movie.
"I have been working on these endeavors for more than seven years and I have put everything I had and a whole bunch I didn't have into this," Ass said. "Financially, mentally and physically I have paid heavily in all of these areas. I have lived in my car for over a year and went months being homeless to help fund this work," he adds. "I intend that this will get some major media attention, thereby also attracting an attorney for representation. The Jackass movie has brought in over $50 million and I intend for the majority of those funds to go to Hearts Across America."
If nothing else, Ass has shown one thing, perhaps to the detriment of his own case: there are a lot of jackasses in the USA.
But enough of the prejudice-inducing jokes. You've got the basics of the case, so how do you think the court ruled?
-v-
.
.
.
.
.
-v-
In January 2003, Viacom got the case moved to federal court, which is proper for both copyright and trademark cases — Ass erred by filing a federal-jurisdiction issue in state court. Within a few months, the federal judge dismissed the suit. Shortly after, in July 2003, apparently not satisfied with the "major media attention" he had sought, Ass wrote out his own eulogy and then shot himself in the head with a hunting rifle. He was 45. Elapsed time from the alleged injury to being thrown out of court: about three years.
Sources
"'Jackass' — the Lawsuit," The Missoulian, 6 December 2002
"Hot Springs Man Who Changed Name to Jack Ass Dies," The Missoulian, 1 August 2003
Case Status
Dismissed. The case was a Runner-Up for the 2002 Awards.
Letters
Lynn in New Jersey: "I've been enjoying your True Stella Awards. I'm an attorney and I regret that the actions of a relatively small percentage of the members of my profession have turned so many people against us. As to what attorneys themselves can do about the bad image of their profession, what I do is to try to do the best job I can for my clients. I'm a business lawyer, not a litigator, but from time to time I've had to persuade clients that just because they *could* sue someone for something, didn't mean that they *should* sue. I don't deal in contingency fee matters, so usually it's a matter of pointing out to them that the money they would spend on a lawsuit would be better spent on doing something to deal with whatever their real problem is. Maybe if more attorneys did this… (I can dream, can't I?)"
You can indeed. Just like the rest of us!
Greg in Washington: "A rebuttal to the guy who claimed we wouldn't need lawyers if they hadn't made the legal system so convoluted. The law is often not twisted and convoluted, it's just DENSE. Many laws are very straightforward and simple to understand — no complex argument is even needed, just the facts — but there are a LOT of laws, and for good reason. We have an amazingly complex society and there are thousands of possible situations the law must address. I got victimized by a sleazy, fly-by-night towing company who towed and impounded my car illegally, and extorted $130 from me to get it back. The police wouldn't do anything. Luckily a lawyer helped me out. This was in the early 90s, before I had Internet access, before the vehicle code was searchable online. Of course, even if it was now, I wouldn't have known to look in the vehicle code to find the appropriate sections of the law. The lawyer did know where to look and then looked it up in a legal research database. It took 10 minutes of his time. He did it as a favor. It was amazingly straightforward once I had the applicable laws in front of me to read. I filed and presented my case in small claims court, and won $1040 in damages. Justice was served. I didn't need a graduate degree to argue and win my case. But I did need to know how and where to find, among thousands of pages of law, 3 paragraphs that proved what that these sleazebags did was illegal and that the law set out specific punishment for doing it. I didn't know that. A lawyer did."
I think you have some great points there, Greg, but you contradicted yourself! You did need a graduate degree to find those 3 paragraphs to help you. Luckily, you didn't have to get it yourself; you just had to briefly hire that graduate degree!
My 2020 Thoughts on the Case
Ass was actually lucky in that it's serious business to accuse a content creator of plagiarism. MTV had a solid case for defamation, but even if they were likely to win a countersuit, there wasn't much of a point considering he had no assets.
Trademark law is awfully specific: you may noticed that there's a ® mark in the header next to "Stella Awards" (and further details in the footer): that the phrase (and "This is True") are registered trademarks of ThisIsTrue.Inc. Registered with who? The U.S. Patent and Trademark Office. That means I have the exclusive legal right to use the phrase in commerce.
Not all aspects of commerce, but "IC 016. US 002 005 022 023 029 037 038 050. G & S: Series of non-fiction books in the field of lawsuits write-ups and analysis. FIRST USE: 20020904. FIRST USE IN COMMERCE: 20020904". When I stopped publishing the newsletter, I cancelled "IC 041. US 100 101 107. G & S: [ Providing newsletters in the field of lawsuit write-ups and analysis via e-mail ]. FIRST USE: 20020904. FIRST USE IN COMMERCE: 20020904". I can only legally object to others using it if it creates "confusion" in the market.
So with that in mind, guess who has a registered trademark for "Jackass"? MTV, of course. "IC 041. US 100 101 107. G & S: ENTERTAINMENT SERVICES IN THE NATURE OF CONTINUING PROGRAM SERIES, FEATURING LIVE ACTION, COMEDY AND DRAMA PROVIDED THROUGH CABLE TELEVISION, BROADCAST TELEVISION, INTERNET, VIDEO-ON-DEMAND, AND THROUGH OTHER DISTRIBUTION PLATFORMS; PROVIDING ONLINE INFORMATION IN THE FIELD OF ENTERTAINMENT CONCERNING TELEVISION PROGRAMS. FIRST USE: 20000412. FIRST USE IN COMMERCE: 20000412", as well as:
IC 025. US 022 039. G & S: Bathing suits, bathrobes, beachwear, clothing belts, shorts, jackets, coats, socks, footwear, bandanas, sweaters, Halloween costumes, dresses, gloves, gym shorts, ear muffs, neckwear, pajamas, pants, shirts, ski wear, slacks, sun visors, suspenders, turtlenecks, underclothes, vests, warm-up suits, headwear. FIRST USE: 20001115. FIRST USE IN COMMERCE: 20001115
IC 016. US 002 005 022 023 029 037 038 050. G & S: PRINTED MATTER, NAMELY, NOTE PAPER AND LOOSE LEAF PAPER, SERIES OF FICTION BOOKS, DECALS, BUMPER STICKERS, TRADING CARDS, NOTE CARDS, POSTERS, FOLDERS, PENCILS, PENS, CALENDARS. FIRST USE: 20010101. FIRST USE IN COMMERCE: 20010101
IC 009. US 021 023 026 036 038. G & S: Video game machines for use with television, audio output game machines for use with television, video game cartridges, video games recorded on CD-ROM for use in freestanding video game machines; and computer products, namely, game cartridges for computer video games and video output game machines and instructional materials sold as a unit, computer game cassettes, computer game tapes and manuals sold as a unit; theatrical or musical sound recordings; theatrical or musical video recordings, laser discs and digital video discs/digital versatile discs ("DVD"); sunglasses. FIRST USE: 20021210. FIRST USE IN COMMERCE: 20021210
And maybe some others: I didn't go through every record on USPTO's search engine.
But guess who didn't have such a registered trademark? Mr. Ass (Jack to his friends), so he had no right to prohibit MTV from using it.
Thus it would seem MTV/Viacom had it all sewn up, with no room for other …uh… jackasses, right? Wrong: There's the Jackass Brewing Company. Jackass Charm Soap ("Clean Bodies, Soiled Mind"!) Jackass-Free Workplace. Don't Be a Jackass (business consulting), and more. Mr. Ass could have registered (for instance) Don't Drive Like a Jackass, but apparently didn't.
Those trademarks have other words besides "jackass" in them, so that's why? Not necessarily: even just "Jackass" by itself is not be fully protected for MTV, leading to Jackass (a computer search engine). The company had no rights to stop that because they didn't register a search engine, leaving that usage open. There are many examples, but you get the idea. Yet Mr. Ass got himself up in such a lather over it, wanting $50 million from movie profits for his own use (and as a publicity stunt to "get some major media attention") that it became his entire reason to exist. Denied that, he killed himself, and left his very good cause to die with him.
What a waste.
- - -
Email Subscriptions
No new cases are being published, so please don't try to submit cases for inclusion on this site.
While there are no new cases coming, all of the previously published cases are returning to this site over time. You can subscribe to notifications as those classic cases are posted, scheduled for Mondays and Thursdays. Click here for a Stella Awards subscribe form.
Meanwhile, my flagship email publication This is True does continue to come out with new stories every week. It's "Thought-Provoking Entertainment" like Stella, but uses weird-but-true news items as its vehicle for social commentary. It is the oldest entertainment newsletter online — weekly since 1994. Click here for a This is True subscribe form.