Stella Case No. 104, Originally Published: 25 January 2006
When Stephanie Michelle Conley took out an insurance policy on her car in 2001 from West Virginia National Auto Insurance Company, she paid her premium by check. The sequence: she wrote the check on Aug. 15; the company issued the policy on Aug. 30; on Aug. 31 Conley was in an accident, resulting in $26,000 in damage; the check was returned by Conley's bank unpaid — it "bounced" — and the company sent her a letter on Sept. 11 saying her policy was canceled as of its start date.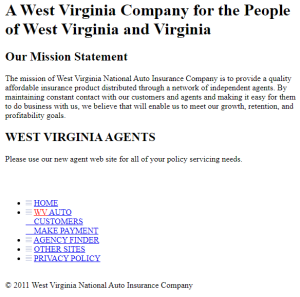 That is, of course, how contracts work: when one side doesn't do their part (like pay the agreed-upon fee), the other side doesn't have to do theirs.
Yet Conley sued the company because she wasn't given "adequate notice" of her lack of auto insurance, even though most banks not only will notify account holders of bounced checks, but charge a hefty fee, too.
Incredibly, she won her case in Cabell Circuit Court, and the insurance company appealed it to the West Virginia Supreme Court. Even more incredibly, in 2005 the Supreme Court ruled 4-1 that the insurance company was at fault for not giving Conley 10 days' notice of her policy's termination, and that she deserves coverage for her accident even though she never paid the insurance premium.
The ruling is "one of the most outrageous court decisions in the history of American jurisprudence," said one case participant. No, those aren't the words of the insurance company, but rather those of Supreme Court Justice Elliott "Spike" Maynard, the one who dissented from the ruling. He called it a "something for nothing" case "where someone, somewhere, somehow must owe them money simply because they have suffered an injury."
In his written dissent he lectured the other judges, saying they "had to work hard to write an opinion that actually does everything that the law should not do. It punishes the innocent by causing honest, hard-working West Virginians to pay higher auto insurance premiums. At the same time, it rewards the guilty by providing a windfall to those who never paid for insurance coverage."
I couldn't have said it better myself.
Source
"Car Insurance Ruling Raises Concerns", Huntington Herald-Dispatch, 10 December 2005.
Case Status
As noted, an award was made.
My 2022 Thoughts on the Case
I still find it hard to believe that the courts ruled against the insurance company, since the contract was legally invalid.
Again as noted previously, several short cases were published "late," so this really is a 2005 case.
No Letters This Week
Readers didn't have anything to say about the Netflix class action. Maybe they were starting to get numb….
- - -
Email Subscriptions
No new cases are being published, so please don't try to submit cases.
My Flagship Email Publication This is True continues to come out with new stories every week. It's "Thought-Provoking Entertainment" like Stella, but uses weird-but-true news items as its vehicle for social commentary. It is the oldest entertainment newsletter online — weekly since 1994. Click here for a This is True subscribe form.