Shutting Down the List — Originally Published: 16 December 2022
I Just Wanted to Say Thank You for following along with the updates and re-posting of the True Stella Awards, which took more than two years to research, update, and get online.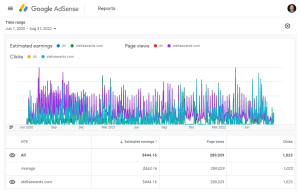 During that time the site had 289,029 page views (or an average of 2,200+ views for each of the 130 posts, ignoring the complication of views on other site "pages"), which brought in a staggering $444.16 in Google advertising revenue (through 31 August 2022).
Clearly I didn't do this project for the money!
Rather, I was simply interested in having verified, updated, and "definitive" versions of each case published on the official site "for the record," and will endeavor to keep the site online while I remain alive, and perhaps beyond — and I plan to live for quite some time yet.
But those numbers do illustrate the difficulty for an independent online publisher to survive on ad revenue alone. Frankly, we can't do it when we don't resort to slimy clickbait tactics, as I refuse to do. I suppose I could have also made the ads more "in your face," but that is a bad user experience that I don't want to engage in either.
I could not have done it without the support of my Day Job, This is True, which has been published weekly since 1994. If you are not already a True subscriber, please do at least try out the unlimited free edition at that link, the slightly-more-expansive "Plus" edition on Substack, and/or (of course!) the "pay-what-you-want (with a minimum)" Premium edition with all the stories, which of course is what really pays the bills.
All this said, what really prompted this message was to say that to be fully complete, this weekend I am deleting the distribution list you subscribed to, which was used to send notices of new case postings. And this message is in line with that, since it is posted on the site as a coda, with comments open should you wish to make a public reply. (You can make a private reply simply by hitting reply).
Again, thank you for supporting the intelligent, thought-provoking entertainment behind the True Stella Awards, which continues weekly at This is True. Take care, and stay out of court!
In Pro Per,
Randy Cassingham, Publisher
- - -
Email Subscriptions
No new cases are being published, so please don't try to submit cases.
My Flagship Email Publication This is True continues to come out with new stories every week. It's "Thought-Provoking Entertainment" like Stella, but uses weird-but-true news items as its vehicle for social commentary. It is the oldest entertainment newsletter online — weekly since 1994. Click here for a This is True subscribe form.