Stella Case No. 036, Originally Published: 12 February 2003
When you were a child, did you use a rhyme to choose other kids for your team? It might have been "Eenie, meenie, minie, moe; catch a tiger by the toe…". If you're less than 50 years old, you might be surprised to hear that the rhyme's mid-19th century roots are quite racist; that "tiger" line used to be commonly recited as "catch a nigger by the toe."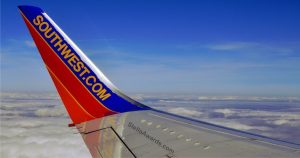 Southwest Airlines flight attendant Jennifer Cundiff, 22 at the time, was pretty surprised to find out — she had never heard the racist version. She had picked up a twist on the rhyme from other flight attendants and, on a crowded 2001 flight, got on the intercom to tell boarding passengers, "Eenie, meenie, minie, moe; pick a seat, we gotta go."
Two of those passengers were sisters Louise Sawyer, 46, and Grace Fuller, 48, both of whom are black. They sued Southwest, claiming they were discriminated against and suffered physical and emotional distress, and demanded unspecified actual and punitive damages, arguing that the young flight attendant used a known racist rhyme to specifically demean them.
U.S. District Court Judge Kathryn H. Vratil of Kansas City, Kan., dismissed the distress claims, but ruled that the rest of the case can proceed to trial. "The court agrees with plaintiffs that because of its history, the phrase 'eenie, meenie, minie, moe' could reasonably be viewed as objectively racist and offensive," she wrote. "The jury, however, must decide whether Cundiff's remark was racist, or simply a benign and innocent attempt at humor," as well as find that the women were denied "the same enjoyment that others experienced on that flight."
Thanks to the passage of time, millions of people had never heard the "n-word" version of the rhyme, only the innocent one. By insisting that a 22-year-old must have been intentionally racist when any rational observer sees no racism only helps perpetuate the hurtful version of the rhyme. In their greed, Sawyer and Fuller have given a long-dead bit of racism new life. Who, then, are the racists here?
Source
"Rhyme at Center of Lawsuit Against Southwest Airlines," Kansas City Star, 10 February 2003
Case Status
After a two-day trial — and just one hour of deliberation — the jury ruled the two sisters did not suffer discrimination. After the ruling the women claimed they were discriminated against again — by the jury. "If we had jurors of our peers, then we would have won the case today," claims plaintiff Grace Fuller, who said the flight attendant's remark caused her to have a seizure, leaving her bed-ridden for three days. The case took about three years from incident to dismissal.
Update Source: "Jury Decides Rhyme Not Malicious," Associated Press, 22 January 2004
My 2020 Thoughts on the Case
Is the U.S. racist? Absolutely: it's deeply ingrained. Was the young white flight attendant targeting these women to specifically demean them? Not that objective observers could see. It comes down to "pick your battles," and I think the sisters chose poorly — and lashing out at the jury was an unneeded insult.
Letters and Comments
As subscriptions to TSA streamed in back in the day, I glanced over them to see what people have put in the box about where they heard about the newsletter. Sometimes there are very weird things there, but I was still pretty perplexed by one "whereheard" that kept popping up again and again — one weird thing is just weird; multiple instances from all over the country is a trend.
Anyway, what I saw was: "18th awards show on TV". Hm? OK, weird. Then "TV", "your show", "18th annual awards", "the stella awards television program."
Gee: had I been on TV lately without knowing? Finally one mentioned what station they all saw this on: WGN (a cable "superstation"), so I went to their web site to see what was on that night. It was the "18th Annual Stellar Gospel Music Awards".
OK, so you're watching Gospel Music Awards on TV, go to a web site that sounds kinda like "Stellar" …and find a newsletter about stupid lawsuits. What rational person then says, "This MUST be the same thing!" and subscribes?! I even had one gal call on the phone asking if she could order a video of the show. (No!)
If you wonder how such stupid lawsuits can get through the court system, consider this story. These people are in jury pools too.
—
The asbestos cases brought a tremendous response.
Michael in the U.K.: "Thanks for ending your article on asbestos the way you did. My father died of asbestosis due to exposure in the navy and working in the local car factory. Those 80% of free-loaders should be ashamed."
Jeff in Ohio: "What a tremendous issue! Thought provoking and educational! I have an idea that might help reduce these frivolous asbestos lawsuits: If you know of one of these free screenings in your area, simply print up issue #20, or the [source article] and simply distribute them to the people standing in line. When confronted with the reality that these victims are taking money away from people who are truly ill, it is my sincere hope that many of them will make the right decision and abandon their plans of hitting the lottery."
Nice thought, Jeff, but it's more likely the lawyers will call the police and have you hauled away as a trespasser!
Several people wrote to say that Congress is working on a law to stop the asbestos suits, but the effort is way too little and WAY too late. The whackamole lawyers will just pop up elsewhere, such as (say) filing thousands of suits against fast food restaurants. Could that happen? It already has started. Lawyers are also looking to sue auto manufacturers because SUVs don't drive like cars (they weren't meant to), or because they cause more damage when they get into crashes with little cars (like pickups — or cement trucks — always have?) No, the issue isn't asbestos; such hordes of frivolous lawsuits indicate a social problem that needs to be addressed at its core.
Amanda in, I think, California: "I read this issue with much interest. My uncle died from asbestos-related causes last July. All his life he worked installing air ducts in buildings, insulated by asbestos. When he died he had only half a lung. Thank you for bringing this to everyone and showing just how bad [suits by healthy people] affect the people who have medical bills to pay and need the money because they can't work, or leave behind a family that needs to be provided for. Thank you, thank you, thank you from the bottom of my heart."
David in Arkansas: "Taking a well-publicized problem like the effects of asbestos exposure and submitting an anti-plaintiff essay takes guts (and probably asbestos underwear). Keep up the good work. Where do I send my donations to keep you in business?"
I don't want donations for this work, but you can support my efforts by buying books filled with my work, or other items. My shopping cart is here.
Meanwhile Tom, apparently in Washington, complained: "You know, as a lawyer, I have enjoyed your good-natured poking of fun at the legal system. Particularly, I liked your ability to understand what the system was trying (albeit imperfectly) to do. But when you start extolling asbestos as an important and necessary product that is part of our history, you have lost it!!!! This product isn't the subject of numerous lawsuits because it is a STELLA contender.— it has killed thousands of people!!! If you think this is analogous to spilling hot coffee in your lap, you've jumped the tracks! Hand in your card, you're a bunch of idiots instead of a voice of reason."
Ignoring how one guy might be a "bunch of idiots," I asked Tom how far his logic goes. Automobiles, for instance, have killed hundreds of thousands of people from collisions alone (forget secondary issues like pollution). That makes them "unimportant" and "unnecessary" and therefore worthy of mass lawsuits?
Tom had no response whatever. There's a reason asbestos has been in use since ancient times: it's useful! Over its history I'll bet it has saved far more lives (e.g., protecting people from fire) than it has taken. Does that make it "safe"? Depends on your point of view. But like many tools and substances, it has to be used correctly.
Still, the safety, or lack of safety, of asbestos is not the issue! As I made clear, many people have indeed been terribly harmed by asbestos, sometimes due to the extreme negligence of their employers. Such people deserve compensation. Yet because as many as 80 percent of the people who are suing have absolutely no medical problems, they are not only clogging up the system to the detriment of the people who do have problems, they are also helping to bankrupt the responsible companies, meaning there's nothing left for those who were truly harmed. I have no doubt that my readers (and any rational, thinking person) can understand that without being told. So when an attorney comes unglued and starts in with ad hominem attacks and name-calling, it's rather obvious what's up: he's not part of the solution, he's part of the problem.
- - -
Email Subscriptions
No new cases are being published, so please don't try to submit cases.
While there are no new cases coming, all of the previously published cases are returning to this site over time. You can subscribe to notifications as those classic cases are posted, scheduled for Mondays and Thursdays. Click here for a Stella Awards subscribe form.
Meanwhile, my flagship email publication This is True does continue to come out with new stories every week. It's "Thought-Provoking Entertainment" like Stella, but uses weird-but-true news items as its vehicle for social commentary. It is the oldest entertainment newsletter online — weekly since 1994. Click here for a This is True subscribe form.