Stella Case No. 112, Originally Published: 1 November 2006
In 1999 Donald Mathews, then 21, was a senior at Stockton State College in Pomona, N.J. To give students a bit of extra space in dorm rooms, the school installed a few hundred loft beds — the bed is six feet off the floor so students' study desks and dressers can fit underneath. Mathews slept in one of the beds.
Awakened one day (it was noon) by his roommate, Mathews said he was "startled, and I — the next thing I knew, I was — I fell off the bed, I was on the floor." He suffered a dislocated shoulder.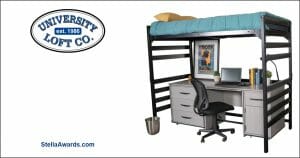 He sued the company that made his bed, University Loft Co., in Burlington County, N.J., arguing among other things the bed should have had guard rails or, failing that, that it should have had a warning label. Before trial, all the claims were thrown out — except the one calling for a warning label.
The case went to trial on that point, and the jury awarded him $179,001.
The company appealed the verdict. "There comes a point where you just can't warn everybody about every danger," said University Loft's lawyer, Scott Griffith. "You've got to use your common sense."
A state appeals court agreed, ruling 3-0 that "the obviousness of the danger is an absolute defense." In other words, when an adult climbs six feet off the floor to get into bed, he should already know that he's …well… six feet off the floor, and thus he obviously knew everything a warning label could have told him. But the court tackled a bigger issue while it was ruling:
"Warnings would lose their efficacy and meaning if they were placed on every instrument known to be dangerous, such as a knife, scissors, glass, bat, ball, bicycle or other product that poses a generally known risk of injury if misused, dropped, or fallen from," wrote Appellate Division Judge Edwin Stern in the joint decision with Judges Lorraine Parker and Jane Grall. "The risks are so obvious here that we fail to see what a college student would or could have done differently while asleep to protect himself from falling, or what a warning could have advised in addition to the obvious."
"We will be appealing this further," grumped Mathews' lawyer, Gary Piserchia.
Well, so much for common sense.
The Judges Are Right: there are so many warning labels around these days we're starting to ignore them. Your computer keyboard "can" cause carpal tunnel. Your monitor "may" cause eye strain. Funny newsletters "could" cause you to blow coffee through your nose. When everything has a warning label, how will we know when we really need to pay attention to a warning of something serious? (Tip: a sign blaring "WARNING! Be Sure to Read All Warning Signs!" won't help.)
Why are there warnings everywhere? Because manufacturers are trying to reduce their legal liability — they're hoping not to be sued by people who don't seem to have any remnant of common sense. If that loft bed had one, then all of Mathews' claims would have been thrown out, and the case wouldn't have gone to trial. Yeah, they did win, but how much lawyer time did it cost them to prevail in the case?
And it's not just companies trying to cover their butts: governments are adding to the clutter too. The doors at every supermarket in California are plastered with "warnings" which supposedly inform consumers that certain foods have "chemicals known to the State of California to cause cancer." I remember rolling my eyes when the sign for saccharin went up, but since then it's gotten worse: Now it's mercury. What foods have added mercury in them? None. But seafood has it naturally — and darn it, people need to be WARNED!
It's all mandated by Proposition 65, more formally known as California's "Safe Drinking Water and Toxic Enforcement Act of 1986". Since the ballot proposition was passed by voters, the list of chemicals requiring warning signs has ballooned to 750. [As of 25 February 2022: 1,016!] (Yet this "Safe Drinking Water" law exempts public water works from having to post warnings.)
Efforts to reduce the sign requirements to only cover things people really need to know about have been blocked. The result: no one really sees them anymore — not the goofy ones, and not the important ones.
But don't think it's just those wacky Californians. The situation nationwide has gotten so ridiculous that, just like I have plenty of dumb lawsuits to report on, others have plenty of dumb warning labels to hold up for ridicule. Michigan Lawsuit Abuse Watch has a "Wacky Warning Labels" competition each year for the dumbest warning labels.
Some of the ones that have not actually won include a pan that warns, "Ovenware will get hot when used in oven.", a cocktail napkin with an arty map on it that cautions, "Not to be used for navigation.", and a kitchen knife with the label, "Never try to catch a falling knife." (Or your falling fingers if you do, eh?) With those losers, imagine the ones that actually win.
Sources
"Suit over Loft Bed Falls Short", Newark Star-Ledger, 16 August 2006.
California's Proposition 65.
Case Status
As reported, Award made, Appeal made, suit tossed out.
My 2022 Thoughts on the Case
Common sense: what a concept!
Letters
No letters from 2006 on the previous case.
- - -
Email Subscriptions
No new cases are being published, so please don't try to submit cases.
My Flagship Email Publication This is True continues to come out with new stories every week. It's "Thought-Provoking Entertainment" like Stella, but uses weird-but-true news items as its vehicle for social commentary. It is the oldest entertainment newsletter online — weekly since 1994. Click here for a This is True subscribe form.