Stella Case No. 122, Originally Published: 16 January 2008
Stephen Dunne had a dream he wanted to be a lawyer. It's a dream many of us have shared; whether out of ambition, a desire to help people who cannot help themselves, or simple indecision over the next stage of their lives, thousands of people set out each year on the journey to become an attorney. Those of us who have made the journey know what obstacles Dunne was to find along the way: increasingly competitive law school admissions, cutthroat classmates and curved grading, an oppressively selective interview process…
…and then, finally, the Bar Examination. It's not an endeavor for the faint of heart. It's difficult for a reason: each state Bar wants to ensure that anybody practicing law in their state is prepared for the intellectual challenge and the pressure. Plus, as you're no doubt aware as a reader of the True Stella Awards, there are already an awful lot of lawyers around — maybe even too many. Some states have gone so far as to raise the passing score in recent years to keep numbers down. Smart, hard-working people fail the Bar exam all the time.
Dunne sat for the Massachusetts Bar exam in February 2007, and came awfully close to passing. But he left an essay question blank — a question involving a married lesbian couple, which he claims had the effect of "purposely advancing Secular Humanism's homosexual agenda," and was thus "morally repugnant and patently offensive."
When he learned a few months later that he had failed the exam — with a score of 268.866 points (270 was required) — he filed a federal lawsuit against the Bar examiners and Massachusetts's highest court for violating his civil rights. As damages, he sought $9.75 million, an injunction preventing the question from counting toward his score, and even a determination that gay marriage in Massachusetts violated the United States Constitution. Unsurprisingly, Dunne represented himself.
He might have had a valid point — if, say, the exam had asked, "Should same-sex marriage be legal?" and "Yes" was the required answer. That would certainly be against many exam-takers' religious beliefs, and a religious test for Bar admission is unconstitutional. But nobody was required to offer such an opinion in order to answer the question, which was a fairly standard one about an impending divorce. The divorce just happened to involve two women.
You see, same-sex marriage is legal in Massachusetts, and has been since 2003 when that state's Supreme Judicial Court ruled on Goodridge v. Dept. of Public Health. This essay question required analysis about property division and child custody in light of a prenuptial agreement, and nothing more; change it to a male-female couple and the analysis would remain exactly the same.
But to Dunne, the question was "invasive and burdensome" — a "disguised mechanism to screen applicants according to their political ideology" with a "discriminatory impact of persecuting and oppressing" his "sincere religious practices and beliefs."
Let's be clear: we do not doubt the sincerity of his religious practices and beliefs, nor do we take issue with their content. But they have nothing to do with his ability to understand what was expected of him on the Bar exam, and what would be expected of him every day as a licensed, practicing attorney.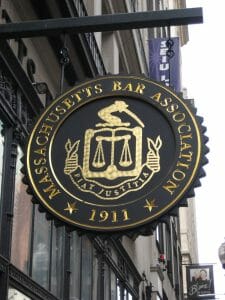 Reaction to the lawsuit was swift: It was "idiotic," said David Yas, editor of Massachusetts Lawyers Weekly. "Knowing the law has nothing to do with agreeing with the law," Yas continued, and if Dunne believed gay marriage was improper, he should "answer the question correctly, get [his] law degree and use it to argue" against the laws he opposes.
Bloggers were also quick to comment. "Keeping Up With Jonas: The World According to Karp" pointed out that Dunne was demanding the option to pick and choose which questions he had to answer on the Bar exam. The implied irony here was that a frequent argument against the "homosexual agenda" which Dunne loathes is that gays are demanding not equal rights, but special rights — and now, Dunne was demanding a special right of his own because of his beliefs.
But there's a far more fundamental problem with the logic of Dunne's lawsuit. Religious convictions vary as much as the people who hold them. If he had the right to skip a question as a Catholic because it involved a same-sex marriage, should another Catholic have the right to skip a question about the legality of abortion, or a question that peripherally mentions legal abortion? For heaven's sake, as a Jewish aspiring attorney, should I have had the right to skip a corporate law question involving a restaurant chain that serves bacon cheeseburgers?! Where would it end — and who would have the authority to determine which questions are optional?
Luckily, we will never find out. This all might have made for a much longer and more ridiculous story, but a few months after filing his lawsuit, Dunne — quietly and with little fanfare — voluntarily withdrew it. He claimed he had been vindicated by the essay question's absence on the July 2007 Bar exam, which he took as "corrective action," and as "assurance that all future examinees…will not be forced to accept, support or promote a liberal ideology on a professional licensing examination."
But since most aspiring lawyers are fully aware that the questions are different every time the test is administered, this reasoning rings fairly hollow. It's far more likely that he simply saw the writing on the wall, and had come to understand how groundless and bitter his crusade appeared.
Massachusetts confirmed this shortly thereafter; the Bar examiners said they had "not agreed to limit the content of any future bar examinations." The state attorney general, Martha Coakley, reiterated that the essay "was a legitimate question regarding the current state of the law in the Commonwealth," and that the Board "maintains its right to test bar applicants on that same subject matter in future examinations."
As for Mr. Dunne, he recently made a statement to Bay Windows, a newspaper serving Boston-area gay and lesbian readers, claiming to be "embarrassed" for being an "instrument of bigotry and prejudice," and apologizing for what he called his "lashing out" as a result of failing the Bar exam.
"By filing a misguided federal lawsuit…in respect to the legitimacy of same-sex marriage," Dunne said, "I have regrettably perpetuated intolerance and animosity towards my fellow Americans. My religiously based discrimination of gay people was callous and diametrically opposed to America's core principles of freedom and equality." Dunne continued, "I am particularly regretful of my actions towards those gay and lesbian friends that I befriended and studied alongside during my three years of law school."
It's an admirable statement, though it has little to do with the merits of his lawsuit. But we do think it's interesting to hear someone admit, finally, that his frivolous lawsuit was a form of "lashing out," and not the result of measured contemplation of his rights under the law. If only all of our actual, already-licensed attorneys would ask their clients to consider their motivations in advance as deeply as Mr. Dunne seems to have considered his in retrospect, perhaps there would be fewer cases for the True Stella Awards.
The Question in Question
Here is the text of the disputed Bar exam question:
Mary and Jane, both attorneys, were married two years ago in Massachusetts. The day before their marriage, Mary and Jane each fully disclosed their assets to the other and signed an antenuptial agreement (the "Agreement") in which each of them agreed that if they were ever divorced (i) they would divide any joint marital property evenly, (ii) they would not seek or accept any property that the other brought into the marriage, and (iii) they would not seek or accept child support or alimony from the other. The Agreement was drafted and reviewed by an attorney representing Jane. Mary did not hire an attorney to review the Agreement as she "trusted Jane."

At the time of the marriage Jane had a two year old adopted child, Philip, and Mary was three months pregnant. When Mary gave birth in Boston six months later to Charles, Mary and Jane were listed on his birth certificate as his parents. Mary has treated and referred to Philip as her son, although she did not adopt him. Mary, Jane, Philip and Charles lived in a house in Boston owned by both Mary and Jane. The down payment for this house came only from Mary. Jane was the sole supporter of the family, while Mary stayed at home taking care of Philip and Charles. Mary had no savings, while Jane had over a million dollars in savings from an inheritance that she received when her mother died three years ago. Yesterday Jane got drunk and hit Mary with a baseball bat, breaking Mary's leg, when she learned that Mary was having an affair with Lisa. As a result, Mary decided to end her marriage with Jane in order to live in her house with Philip, Charles, and Lisa. What are the rights of Mary and Jane?
Sources
"Boston Man Sues Over Gay Marriage Question on Bar Exam", AP via Boston Globe, 6 July 2007.
"Dunne v. Massachusetts Board of Bar Examiners, et al." Original complaint, U.S. District Court, District of Massachusetts, 25 June 2007.
"Plaintiff Withdraws Complaint Over Bar Exam's Gay Marriage Question", The National Law Journal, 11 October 2007.
"Failed Bar Exam-Taker Apologizes to Gays", Boston Herald, 10 January 2008.
"New Insight on Stephen 'I Demand Special Rights' Dunne", The World According to Karp (blog), 6 July 2007.
"'The Gay Dog Ate My Bar Exam,' Cries Aspiring Lawyer", Good As You (blog), 2 July 2007.
Case Status
As noted, withdrawn by the plaintiff.
My 2022 Thoughts on the Case
This is the fifth case written by a guest author, an attorney, and the last published True Stella Awards case. There will be some concluding comments next week to wrap things up.
My immediate thought in 2022 is there are an awful lot of people who owe apologies on this issue, a realization that they "have regrettably perpetuated intolerance and animosity towards my fellow Americans. My religiously based discrimination of gay people was callous and diametrically opposed to America's core principles of freedom and equality."
Sounds like Dunne would make a good lawyer after all: people do grow up. In fact I found three Stephen Dunnes listed as attorneys on the Massachusetts Bar Association web site, but I have no idea if any of them are the same man.
Letters
A letter on the "Meals on Wheels" delivery driver case (No. 121):
Brian in Washington: "I am a Forensic Psychiatrist, as well as the founder and medical director of [a medical consultation firm], which typically is involved in evaluating injury and disability claims at the request of the defense, employer or insurance carrier. I personally have seen my share of ridiculous claims. I enjoy reading Stella Awards and generally see your articles and conclusions as spot-on. However I was baffled at the inclusion of the article about the meal delivery driver whose workers' compensation carrier sued the homeowner. You suggested that there is something wrong with this. There is nothing remarkable or outrageous described in this business practice. It is what I believe not only expected but in some cases required by statute. What you describe is subrogation. In a nutshell, there are often multiple coverages and potentially responsible parties that may apply to a given situation. In the case of the injured employee, she hurt herself on the job. She was covered by workers compensation. As a matter of law, stupidity or carelessness is generally not a defense in workers compensation claims. In exchange for employers being generally immune from suits for employee injuries, workers comp is a no-fault system where one takes the worker as they are, warts and all. In this case, she was wearing the wrong shoes, but she is covered nonetheless under workers' compensation. The workers compensation carrier has the right to seek reimbursement from another responsible party. Thus the suit against the homeowner. The homeowner can certainly raise contributory negligence as a defense in her claim. Carriers have responsibility to their insured and to their shareholders to pay claims properly and to seek reimbursement from other sources when appropriate. That appears to be the case here."
I am familiar with subrogation, as is the attorney who wrote the case for the issue: he mentioned it. Let's get the opinion of another attorney:
Tom in Washington: "I agree that the decision to pursue a subrogation claim against the homeowner was boneheaded, but what does the risk analysis have to do with it?? Risk analysis is about whether there is going to be an accident…no matter whose fault. Sure, Sentry knew that there was a risk that the people covered by its insurance might fall on slippery driveways in Wisconsin, and they set their rates accordingly. They also knew that they would get a certain percentage return on the losses by pursuing subrogation. Knowing that, they adjusted their rates accordingly. That's all underwriting. No rational underwriter could have ever thought that some lunatic in the subrogation division would decide to get his stripes against some poor lady who couldn't shovel her driveway. The real sin here is not in the risk analysis, it's in the operational decision by a Sentry idiot to go after subrogation on this claim."
The brief risk analysis discussion wasn't really the point. The point of the case write-up, as Tom realized, was indeed to say that it's being handled improperly, not that there's something wrong with subrogation. It was pointed out that because the elderly woman's insurance company is separately named in the case, they may have to watch out for themselves and sacrifice their client. Could she sue them to force them to defend her? Sure: but she shouldn't have to. The woman is 81 years old, and thought that she had insurance to protect her. That's all up in the air now. At the very least, it sounds immoral to sue her, rather than simply have one insurance company push arbitration on another and leave her out of it.
- - -
Email Subscriptions
No new cases are being published, so please don't try to submit cases.
My Flagship Email Publication This is True continues to come out with new stories every week. It's "Thought-Provoking Entertainment" like Stella, but uses weird-but-true news items as its vehicle for social commentary. It is the oldest entertainment newsletter online — weekly since 1994. Click here for a This is True subscribe form.