May it Please the Court:
The True Stella Awards® were inspired by Stella Liebeck. In 1992, Stella, then 79, spilled a cup of McDonald's coffee onto her own lap, burning herself. A New Mexico jury awarded her $2.9 million in damages, but that's not the whole story. Ever since, the name "Stella Award" has been applied to any wild, outrageous, or ridiculous lawsuits — including some infamous bogus cases!
While there are not new cases coming, the classic cases have returned to this site with updates — the "what happened?" if I could find out.



Click here to see what full case write-ups are available.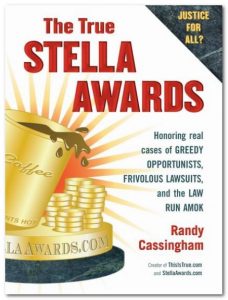 Why no new cases? Everything that I really had to say on the issue has been published in the True Stella Awards book. Click the cover to purchase an autographed first-edition hardcover, or here to get it on Amazon for your Kindle, or used on paper, which is much cheaper.
Yes, I meant all along to be entertaining, and you'll see that in the book. After all, the This is True tagline is "Thought-Provoking Entertainment"!
But there's also a deeper consideration that I addressed: are the people involved in the cases presented to you (a juror in the Court of Public Opinion) using the courts to redress justifiable grievances that can't otherwise be settled? …Or are they trying to extort money from anyone they can? Are the lawyers involved champions of justice? …Or are they helping to abuse the system in the name of getting a piece of the action?
You be the judge!
"The extraordinary number of lawsuits, of which such a large amount are frivolous and completely abuse the legal system, is maddening! The Stella Awards at least let us laugh and, at the same time, be enlightened by them. Thank you for bringing this problem into an entertaining and critical light." —Paul in California
Total Independence
Unlike most "tort reform" sites, TSA is not a front for any special interest group. This site and its now-discontinued newsletter have always been completely independent and funded solely by advertising and book sales.
Stella Awards is a project of This is True® — a weekly news commentary column featuring bizarre-but-true stories from legitimate news outlets from all over the world, all with snippy commentary by Colorado humorist Randy Cassingham (that would be me). If you like the Stella Awards, you'll love the weird-but-true stories sent out once each week in This is True.
- - -
Email Subscriptions
No new cases are being published, so please don't try to submit cases.
My Flagship Email Publication This is True continues to come out with new stories every week. It's "Thought-Provoking Entertainment" like Stella, but uses weird-but-true news items as its vehicle for social commentary. It is the oldest entertainment newsletter online — weekly since 1994. Click here for a This is True subscribe form.